LVBA Honors studio26 with 5 Awards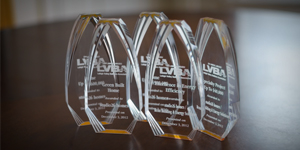 On December 3, 2012, the Lehigh Valley Builders Association (LVBA) honored studio26 homes and Renu Building & Energy Solutions with five Awards for Professional Excellence.
The five award categories include:
Energy Efficiency
Green Built Home
Specialty Projects up to $40,000
Single-Family Home up o $500,000
Single-Family Home up to $600,000
"It is always a great honor to be recognized among our piers for the committed efforts of our entire team," shared Brian Baker, Owner | Director of Marketing & Design. "Without great clients, and without a trusted team of dedicated trade-partners and suppliers, this wouldn't have been possible."
These awards mark the firm's thirteenth honor received from the LVBA since 2007, and the fifteenth award overall. To see the awards received, feel free to click on "Recognition".