Lehigh Valley Business Honors Brian Baker with Top Forty Under 40 Award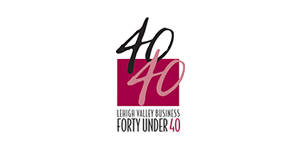 On April 4, 2013, Brian Baker (Co-Owner and Director of Marketing & Design at studio26 homes and Renu Building & Energy Solutions) was honored by Lehigh Valley Buisness and their primary sponsors, Crystal Signatures and Cedar Crest College, as a recipient of the inaugural Forty Under 40 Awards. Recipients were selected by an independent panel of judges in recognition for their outstanding contributions they have made to the Greater Lehigh Valley, both in their respective industries as well as the Lehigh Valley community.
Baker was very thankful for the honor: "This is great honor for our company, and I am blessed to have been considered for this award! I am very grateful to the other two owners as well, as it is our entire team that works so hard each day to help us deliver our products and services successfully to our clients!"
2013 LVB 40 Under 40 Press Release
UPDATE: On June 11, 2013, Lehigh Valley Business, in association with Crystal Signatures and Cedar Crest College, held the official Awards Presentation at the historic Hotel Bethlehem. Below is a photo of Brian Baker being presented the award with the Crystal Signatures President and Chief Designer, Peter Wayne Yenawine.



Lehigh Valley Business is the award-winning business newspaper of record for the greater Lehigh Valley, providing more information, more analysis and more advice pertinent to business than any other local media outlet. As the most widely read local business publication in Lehigh Valley, the Journal reaches entrepreneurs, corporate boards, middle managers and CEOs.